HISTORY
VOSARD is a voluntary organization registered under Travancore Kochi Cultural, Scientific, Charitable and religious Trust Act XII of 1955 with the registration number I-750/98. It is a secular organization and official social work organization of CMI (Carmelites of Mary Immaculate) fathers of St. Joseph's province, Kottayam. VOSARD was established in the year 1998 with the aim of transforming the lives of the poor, marginalized and the under-privileged groups in the most backward and remote hilly areas of Idukki District in Western Ghat region. Since beginning the organization has been working with the poor and weaker sections in the society through self help initiatives and capacitating them to achieve sustainable development, irrespective of caste, creed, and religion. VOSARD strives to promote a society where the marginalized and underprivileged sections in the society are empowered to bring about positive changes in their lives. VOSARD started its work in 1998 in ten remote and rural Panchayats of Idukki district considering the substandard living conditions of ordinary people in the area. Gradually, it activities were extended to nearby Panchayats and now VOSARD is operational in the entire Idukki district and parts of Kerala..
Organize and empower the poor and weaker sections in the society

Promote and sustain Self Help Groups.

Promotion and propulsion of micro-credit supported rural enterprises with women as the primary partners.

Serve as an effective link agency between the poor and the Government

Promote development programs for the women, children and youth.


Development of habitats and special housing schemes for the homeless.
Undertake special projects and programs for socially as well as physically challenged, old aged, terminally ill and all other discriminated / isolated sections in the community.

Care and protection of children

Promote gender equity focusing specially on women.

Skills and entrepreneurial training for rural employment and livelihood development.

Empower the people to fight against social evils viz. alcoholism, drug abuse, human trafficking, child labour etc.



VOSARD is an NGO registered under 12th Travancore – Kochi Cultural, Scientific, Charitable and Religious Trust Act, 1955 (Regn. No. I-750/98).

Registered under 12A & 80G exemptions of the Income Tax Act..
Foreign Contribution Regulation Act (FCRA).

Registered under National Trust Act.

Registered under PWD Act.
Operational Structure & Organogram
VOSARD as Mother NGO
Representatives of seven NGOs from across Kerala are partners of VOSARD for availing professional support and guidance in replicating successful social work models like CBR, three-tier system of people's organizations and resource mobilization strategies in their area. Exposure visits and trainings were arranged for the NGO staff and follow up visits/ trainings were also arranged for the community leaders in their respective operational areas. The main operational area of VOSARD is Kerala, purticularly Idukki and Kottayam districts.
Some of the prominent NGOs availing the services of VOSARD are:
Jeevajyothi Apex Federation of the disabled (JAF), Idukki

Saphalyam, Thiruvananthapuram

Sahridaya Sparsan, Ernankulam

Navadarsan, Muvattupuzha

Navachaithanya, Kottayam

Aadarsh, Pathanamthitta

Jyotis Wynadu

Punarjeni, Kollam

Sahayagiri Health Care Society, Thodupuzha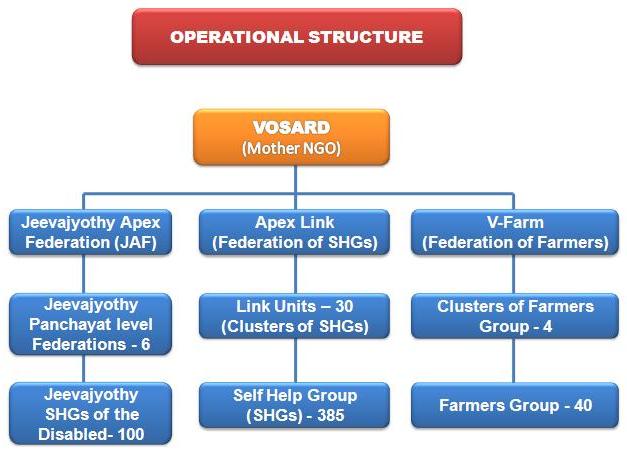 Organogram
VOSARD has a 13 member General Body and a democratically elected nine member Executive Committee that meets quarterly basis or as and when required to monitor proper functioning of the organization. The organogram is given below: